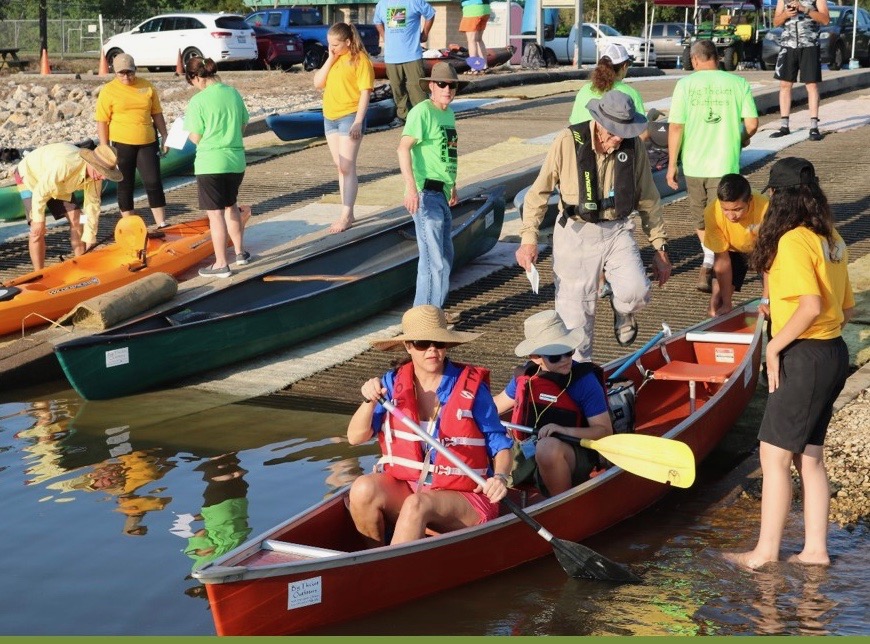 Harbormaster, Ryan Smith & Check-in Coordinator Margaret Keith working the boat launch with help from BTA volunteers and NJOTC Cadets.
---
(All participants must be pre-registered. Sorry, no payments at event. Registration Closes September 7th)
Cooks Lake to Scatterman Paddling Trail
Registration is open until September 7th, 2021 for the 8th Annual Neches River Rally. This year's route will take paddlers through the Big Thicket National Preserve via the 4-mile Cooks Lake to Scatterman Paddling Trail. This is a rain or shine event.
Paddler will experience the open waters of the Neches River and the bald cypress/water tupelo swamp. Wading birds, songbirds and turtles are common wildlife observed in these backwaters.
Canoes and kayaks (no paddleboards) will launch and return to the LNVA Saltwater Barrier location in Beaumont. Bring your personal boat or reserve a boat before September 3rd with Big Thicket Outfitters (409) 786-1884.
Each adult registered participant will receive a complimentary Big Thicket Association 2021-2022 non-voting membership.
Registrants also receive a free hamburger/chips/ and drink for lunch, and goodie bag.
The Big Thicket Association thanks our generous sponsors and donors of goods and service for supporting this event!
REGISTRATION now OPEN for 2021!
Use the "REGISTER NOW" link above.
Sponsors of 2021 Neches River Rally
---

---

---

---

---

---

---

---

---

---
Other Sponsors / Donors:
Eastex Automotive
Big Thicket Outfitters
Ellen C. Temple
neil-Troy Advertising
---
---
Click here for list of FAQ's.
Highlights:
* Rain or Shine
* Family Friendly - No alcohol allowed
* Life Preservers Mandatory
* Launch at Set Times
* No Refunds
(Registration will be required for each person)
Rentals Registration does not include boat rentals. For boat rentals call Big Thicket Outfitters 409-786-1884
Early Bird Registration ends Monday, August 23
Getting There
One access site:
LNVA Saltwater Barrier, North Ramp 6790 Bigner Rd Beaumont, TX 77708
Distance from Nearest Major Cities:
Houston - 88 Miles
Lake Charles - 57 Miles
Lafayette - 132 Miles
Baton Rouge - 182 Miles
Huntsville – 111 miles
Bryan/College Station – 188 miles
Waco – 241 miles
Austin – 253 miles
Dallas – 281 miles
San Antonio – 285 miles
Fort Worth – 303 mile
Thank you for your interest in participating in the Rally. If you have questions regarding the Rally or need to change a registration already submitted, please send us an e-mail or call the Neches River Rally office at 409-790-5399.
(Registration does not include boat rental)